About Us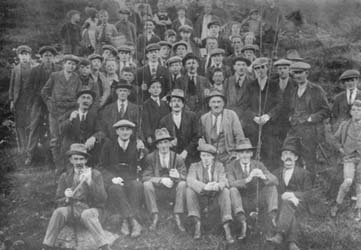 The Cambrian Angling Association was formed on the 2nd of June, 1885, when a public meeting was held in the old Dolgarreg Ddu school in Blaenau Ffestiniog.
The Association was formed due to a few local gentlemen feeing the need to protect the fishing on the lakes and rivers. At the time, trout and salmon were taken from the waters by any means possible, from the popular otterboard to dynamite !!.
We owe these early anglers a huge debt of gratitude, for aquiring the fishing rights on the many lakes and rivers in the area, and for keeping them wild and natural, giving us the opportunity to enjoy them today.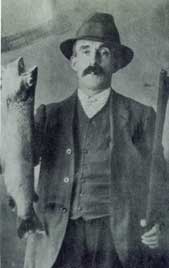 From those early days, Cambrian Angling has gone from strength to strength, with 18 lakes, ( and of course the rivers and streams that run to, and from them), available to trout anglers, and four rivers for Salmon and Sea trout fishing.
We operate a "any method" policy, where you can fish using any legal method with a single rod and reel, including Float Tube Fishing, (but bear in mind that these lakes are natural and sometimes remote, with no purpose built ramps to launch from, so the decision as to whether it is safe to enter the water, is entirely up to you.).
The most popular , and probably the most successful, is fly fishing.
Either using traditional fly fishing tackle, or using a method that seems fairly unique to this area, the "Bubble and Fly" method. A bubble float is tied to the end of the line, and a couple of flies are tied on droppers in front of it. These are cast out using a spinning type rod and reel, then slowly reeled back in.
The photo is of Caradog Edwards, with a 7lb 2oz brown trout caught in Cwmorthin Lake, in 1922.